One of the most straightforward candlestick patterns to spot as a trade is the engulfing bar.
Engulfing bars are often huge and can have the power to move the markets quickly.
In this post, we go through the engulfing bar and how you can use it with free MT4 and MT5 indicators.
NOTE: Want a full list of some of the best free MT4 and MT5 indicators you can use in your trading? You can get them below.
What is an Engulfing Bar?
As its name suggests, the engulfing bar "Engulfs" the previous bar. It can also engulf more than one previous candle, but to be considered an engulfing bar, at least one previous bar should be fully engulfed or consumed.
It might get a little confusing, but always remember that the engulfing bar has a higher high than the previous candle and a lower low.
Below is an example of a bullish and bearish engulfing bar. 
How to Trade the Engulfing Bar
The best engulfing bars are found when there is an existing trend in place.
Because engulfing bars are swing trading signals, we should be looking for them at swing highs and swing lows. Bearish engulfing bars should be found at a swing high, and bullish engulfing bars should be located at swing lows.
In this example, the price moves up higher into a swing high. Price then forms a bearish engulfing bar.
This bearish engulfing bar at the swing high was the tip-off that price could be looking to sell off back lower.
Engulfing Bar Indicators for MetaTrader
Engulfing Bar Indicator for MT4
This engulfing bar alert indicator from ProfitF.com is an MT4 indicator that will alert you when an outside bar / engulfing bar occurs.
Below is an image from the www.ProfitF.com website showing what it should look like when plotted on the chart.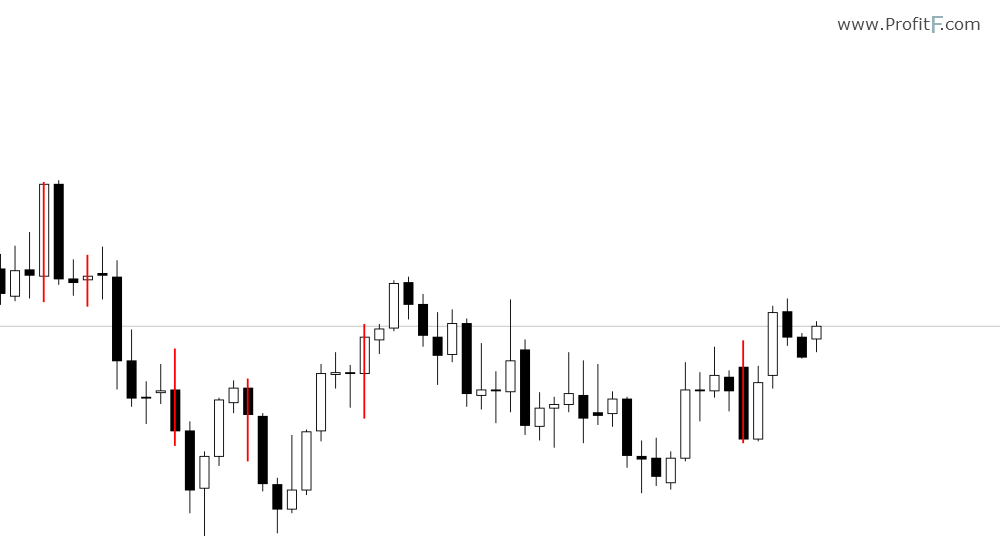 This MT4 engulfing bar indicator is free and can be downloaded at ProfitF Engulfing Bar Indicator.
Premium Engulfing Bar Indicator MT4 and MT5
This indicator can create an alert whenever an engulfing candle is found.
In general, alerts can be a popup window in the MetaTrader terminal, email messages via Metatrader email, or text messages via MetaTrader SMS alerts.
This indicator also displays graphically on the chart. You can download and use this indicator with both MetaTrader 4 and MetaTrader 5. 
This Engulfing Bar indicator costs $42.50. You can get a copy for either MT4 or MT5 at ForexOp Engulfing Bar Indicator
Note: Don't know how to install and use these indicators? Read How to Download, Install and Use MT4 and MT5 Indicators.
Lastly
These engulfing bar indicators for MT4 and MT5 can help you quickly and easily find new potential engulfing bar trades, ensuring you don't miss any signals.